Quick Links to Learn More about CHS (Secondary Section)
Quick Links to Learn More about CHS (Secondary Section)
Catholic High School (secondary section) offers both Integrated Programme and O-Level Programme.
(1) Prospectus about our desired student outcomes, curriculum and programmes
Catholic High School aims to nurture confident leaders with values, bilingual scholars with critical thinking skills, and interesting gentlemen who treasure their brotherhood. We also have close collaborations with our three partner schools to offer our unique Joint Integrated Programme that stretches our students in terms of their global outlook and 21st Century Competencies.
Learn more through the following prospectus:
---
(2) Overview of our Dual Track Curriculum
Catholic High School offers both the Integrated Programme (IP) and O-Level Programme (OP) to cater to the different aspirations and learning styles of our students.
Click on the following link to learn about the similarities and differences between our IP and OP:
---
(3) Some of our exciting opportunities for students
We offer a broad spectrum of opportunities for our students to explore their passion and interests, and to transform their gifts into talents.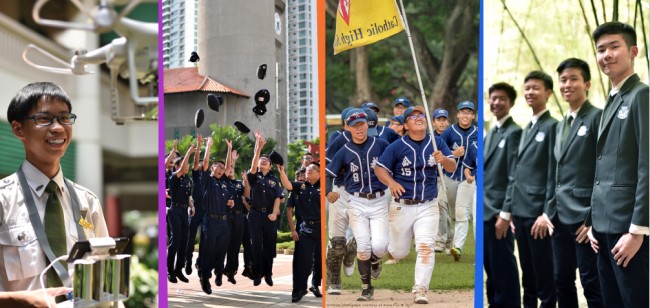 (4) Learn about our student outcomes (for academic and CCAs)
Our students have done well in many areas to exemplify our ethos of continuous innovation and culture of excellence.
(5) A pictorial tour of CHS Secondary Section
Click on the following link to learn more about our conducive environment for students to immerse in a bilingual culture that supports their learning and development:
(6) Frequently Asked Questions (from prospective students and parents)
Click on the following link to read some of the FAQs posed to us by prospective parents and students:
Some of the questions posed by parents/students are:
Are students in OP and IP given the same opportunities, e.g. for talent development, participation in Olympiad etc.?
How does the MOE school allocation work? By choices or by merit of T-score?
What are the start-time for regular school days? What is the cohort intake?
Do I / does my son need to attend religious programmes?
What is the Cut-Off-Point (COP) for your O-Level and IP tracks?
Can a student transfer from the O-Level to the IP track? Vice versa?
What is the promotion criteria for IP, including High Chinese, for Year 1 to 4 within CHS?
Can I offer / don't offer Higher Chinese (HCL) if I am in the OP /  IP?
… and more.
(7) Write to us with your questions
You can write to us @ chs@moe.edu.sg or call us at our General Offices (on weekdays between 8am – 4pm) on:
6458 9869 (Primary section, for matters such as P1 registration, primary school transfer etc.)
6458 2177 (Secondary section, for matters such as Level 1 admission, DSA etc.)
Our two sections have separate General Office, so please approach the relevant GO for your query.
(8) Follow us on Facebook (https://www.facebook.com/my.gongjiao)
(9) Videos about CHS
We were featured in the 2017 Channel 8 TV documentary "Tuesday Report : When the Bell Rings 星期二特写 : 钟声响起时 – EP6: Catholic High School 双轨火车". Watch it to learn more about our strong heritage and rich culture.
Watch the following video to "Catholic High – Our Home 公教吾家", to hear from our students and teachers on how we are one family who live and learn together: