Follow Us on the National Science Challenge 2018!
A team of our Level 3 CΩERGY students are presently competing in the ongoing National Science Challenge 2018 being broadcasted on MediaCorp Chanel 5. After the broadcasted 28 Aug quarterfinal episode, our team is through to the semi-finals!
Follow them through the NSC episodes on 28 Aug and 4 Sep (Ch5, 7.30pm), and possibly more episodes after that. You can catch the broadcasted episodes on Toggle too.
(Photo below, from left: CHS students Tan Yi Xuan, Andre Koh, Brandon Auyong and Clarence Chua)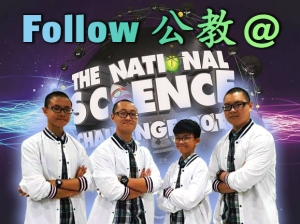 Below is the embedded video of the 28 Aug quarterfinal episode with the group that includes our school.