公教中学校歌
 沈光辉 曲
梁厚祥 词
公教中学   屹立星洲
黉宇高耸   环境清幽
宣传文化   中西并筹
阐扬学术   文质兼收
振兴教育   惠及同俦
发挥道德   砥柱中流
莘莘学子   勤勉研求 
弦歌讽诵   涵泳优游
白云渺渺   绿水悠悠
敦品励学   无间无休
蕉雨淅淅   椰风飕飕
振我邦国   万祀千秋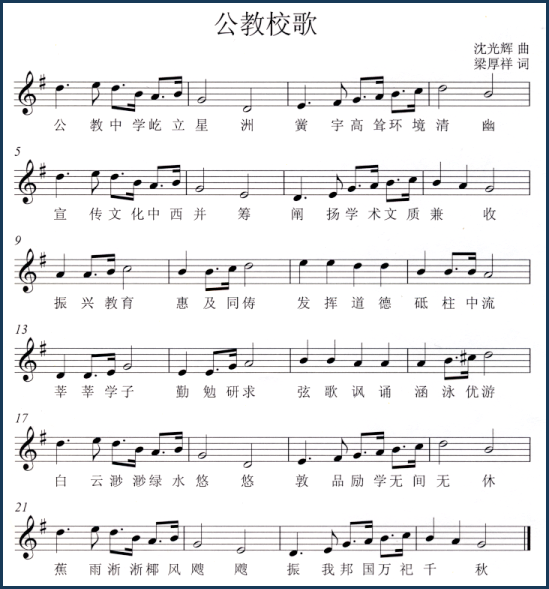 Our School Song (translated)
Catholic High School stands tall,
On this Island of Singapore;
Serene and picturesque are its precincts,
And to Heaven does its spire soar.
Propagating Cultural heritage: East, West and more.
Striving towards excellence is our very goal.
Promoting bilingualism benefits one and all.
Cultivating virtues as steadfast as mountains amidst turbulence.
Diligent are the boys in scholastic pursuits,
Joyfully they sing, play and grow,
Never slackening in life-long learning,
Never departing from social mores.
Through the clear sky the white clouds float,
Into the deep sea the green waters flow.
On this tropical island,
We build a nation, forever strong and free,
Reaching out together from here to eternity.
Adapted and translated from the original Chinese School Song by Liaw Beng Teck